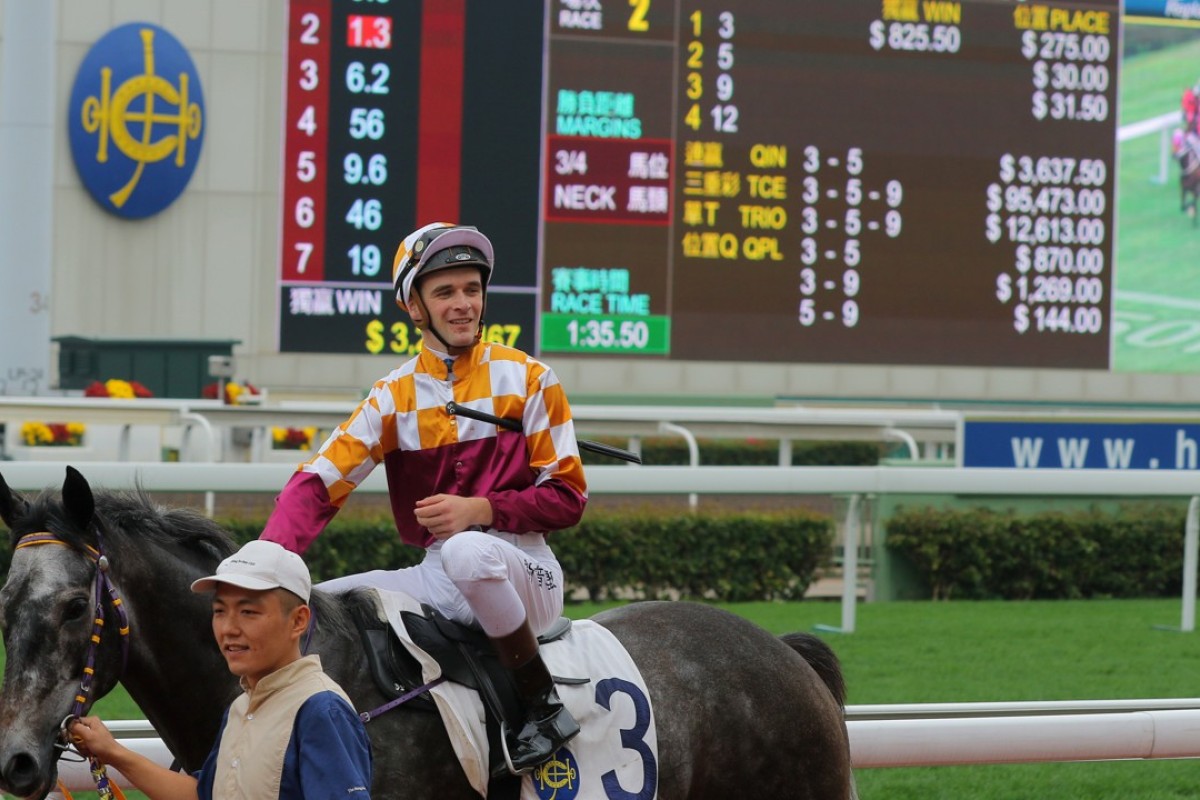 You Have My Word's victory in Saturday's Class Five certainly caught most people out at his first run for a year and coming off a bleeding attack-based break in training early in the season.
In seven starts in Hong Kong, he had beaten home a total of just one rival and dropped like a stone from a rating of 70 to 40, but the notion that there was no backing at all for the six-year-old would be wrong.
That is quite clear from his starting odds of 82-1 – in an era when we often see runners at 300-1, 400-1, 500-1 – and it was clear from the activities in the quinella pool, where there seemed to be consistent chipping away at multiple combinations involving You Have My Word through the ebb and flow of the betting.
We can't speak for how anyone made that investment decision but it had the hallmarks of the computer syndicates, who don't get much airplay these days, well not like they once did, but they are still out there and operating successfully.
So You Have My Word didn't go unbacked although the evidence all seemed to be that he was very much unfancied before posing for a very lonely-looking winner's photo without his trainer, who was buying horses overseas, or anyone who looked like an owner.
You Have My Word, a half-brother to G1 winner Lucia Valentina, returns after a year on the sidelines to take Sha Tin R2 for Sam Clipperton and Benno Yung at 81/1 #HKRacing pic.twitter.com/PTxoOE6C6m

— HKJC Racing (@HKJC_Racing) March 3, 2018
People ask how a horse with form like that can even win, but one of the unique aspects of racing in an all-import centre like Hong Kong is that almost everything that arrives has shown ability. Whether it was a trial win or an overseas win in a weak race, there is a record of all but the International Sale horses having done something to make someone buy them. You Have My Word won two out of three in New Zealand, so he wasn't without ability, he just had not displayed any of it here as he battled health problems since landing.
His victory for Sam Clipperton put the young Australian jockey back in the spotlight, where he was early last season, as a jockey who rides long-priced winners but even his engagement was a fluke.
Alvin Ng Ka-chun was originally booked to ride the horse but when there was no lightweight rider available at declaration time to ride My Folks, who had 113 pounds to carry. Ng agreed to switch to My Folks and leave the You Have My Word ride, at 133 pounds, for whoever would take it, as both rides were considered no-hopers.
One other surprise about the win was that it didn't turn up as a classic Triple Trio buster for the big jackpot.
The HK$30.8 million TT jackpot ultimately generated a HK$57 million dividend pool which then failed to deliver the promise of a big prize when there were dozens of winning tickets.
Normally, we would have expected a 14-runner Class Five to be part and parcel of any TT – the average winner of a Class Five is slightly longer than the other classes, so including those races has the potential to make it tougher to win.
Sam Clipperton collects his first Hong Kong treble at a juicy 10,000-1
Why would the club do that? Well, it's a better advertisement for the potentially life-changing bet type if someone wins tens of millions than if, as we got Saturday, it's a HK$1.1 million dividend, which is nice too but doesn't have same ring to it.
Instead, the races chosen for the biggest recent TT pool were three Class Fours, each with a fairly small group of likely favourites, and two of them short of the normal field limit.
On a card with five races that didn't have 14 runners, two of those races found their way into the plan for the TT, which seems odd as, in theory and as it played out in reality, that makes the task of getting the result easier. Certainly for an individual but absolutely for the collected knowledge and investment of the punting public.
Using the C track, 1,200m races are only allowed for safety reasons to have 12 runners, so that was the first leg, there were only 13 at declaration time in the second and the final leg had 14 runners but a likely very short-priced banker in Raging Storm. None of those things were surprises so it begs the question why the club chose those races.
Joao Moreira harnesses Raging Storm to collect a four-timer at Sha Tin
Of course, had the Class Five been included, the appearance of You Have My Word in the placings would have put most, if not all, punters out of business and we would be having a different conversation but it might also mean we'd be looking at a huge jackpot again for Sunday and that is much of the appeal of the Triple Trio.
Interport series has a role to play in any Macau revival
The interport races have been questioned by many for some time now and Sunday's poorly patronised jogtrot for Romantic Touch in the Macau Hong Kong Trophy probably didn't do a lot for the image of the events as contests.
Only two horses from Hong Kong – where once there were half a dozen every year – and an uncompetitive race will reignite the discussions on whether they are worth the trouble.
But their continued existence probably is required in the light of colleague Michael Cox's piece on Macau Jockey Club's hopeful look to the future after having its lease on Taipa was extended by 24 years.
Macau has horse racing? New deal gives ailing track a 24-year lease of life and ensures the sport won't go to the dogs
One of the original reasons for the interport races was a general spirit of goodwill in 2004 across the Pearl River Delta, but Hong Kong also formed the link between Macau and the world.
Although Active Bobo had blazed the trail for Macau in Dubai in 2001, winning a lead-up sprint before the Golden Shaheen, the appearance of he and stablemate Gold World Winner at that time created a problem with where the Macau visitors fitted into the grand scheme of things.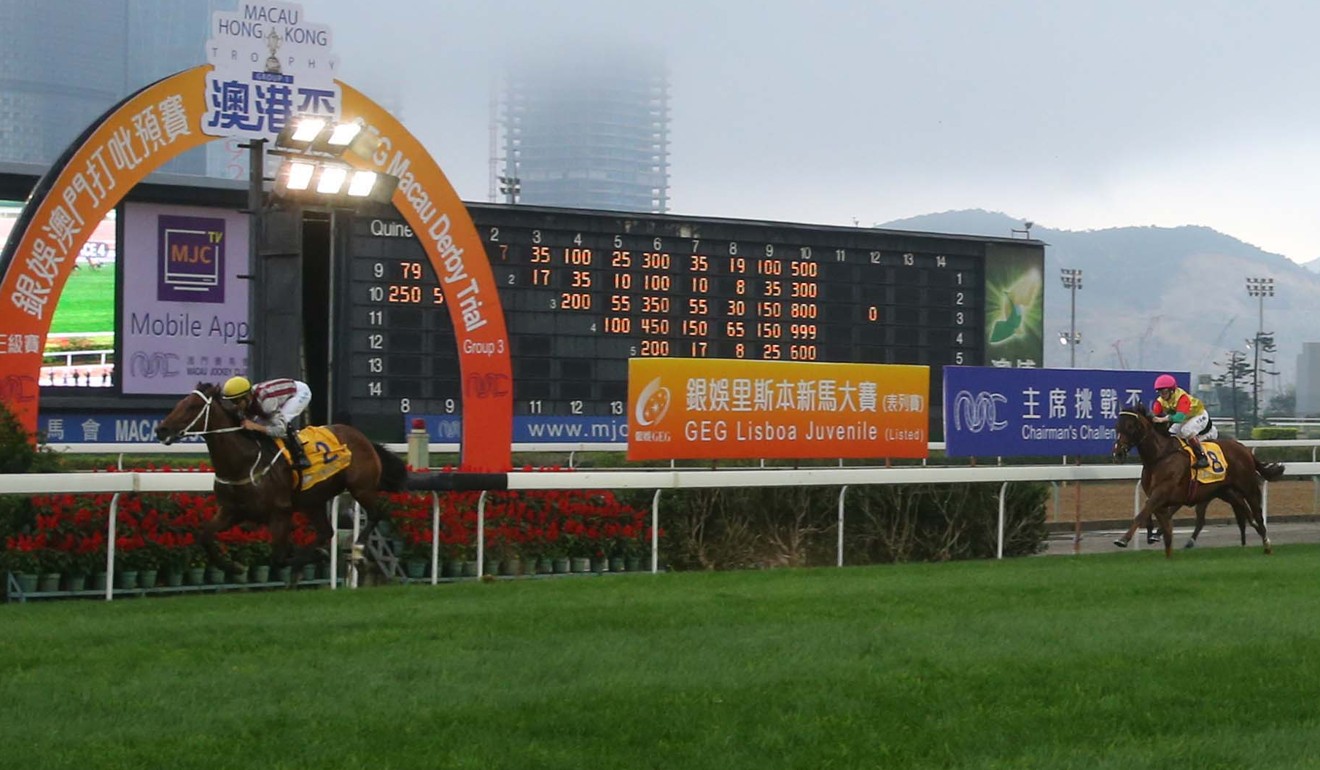 Competition between horses trained in Hong Kong, with recognised international ratings, enabled comparisons to be made with horses trained at Taipa. Being able to assess them enabled quite a few horses from there to make their way to other countries to compete and, for horses like Change The Grange, to win races during the Dubai international carnival.
That connection is one purpose for the interports, goodwill is another and they play an aspirational role for Macau owners to upgrade their stock. Macau wins at Sha Tin have been rarer than hens' teeth recently but, they held their own there, with the handicap allowance, in the early days.
'A Group One is a Group One,' says Joao Moreira as Romantic Touch wins another Macau Hong Kong Trophy
If there really is a new optimism after the extension of Macau racing's lifeline, the interport events have a part to play for the Taipa side in any revival and for the Jockey Club, well, HK$237 million in simulcast turnover on the meeting isn't exactly chicken feed.