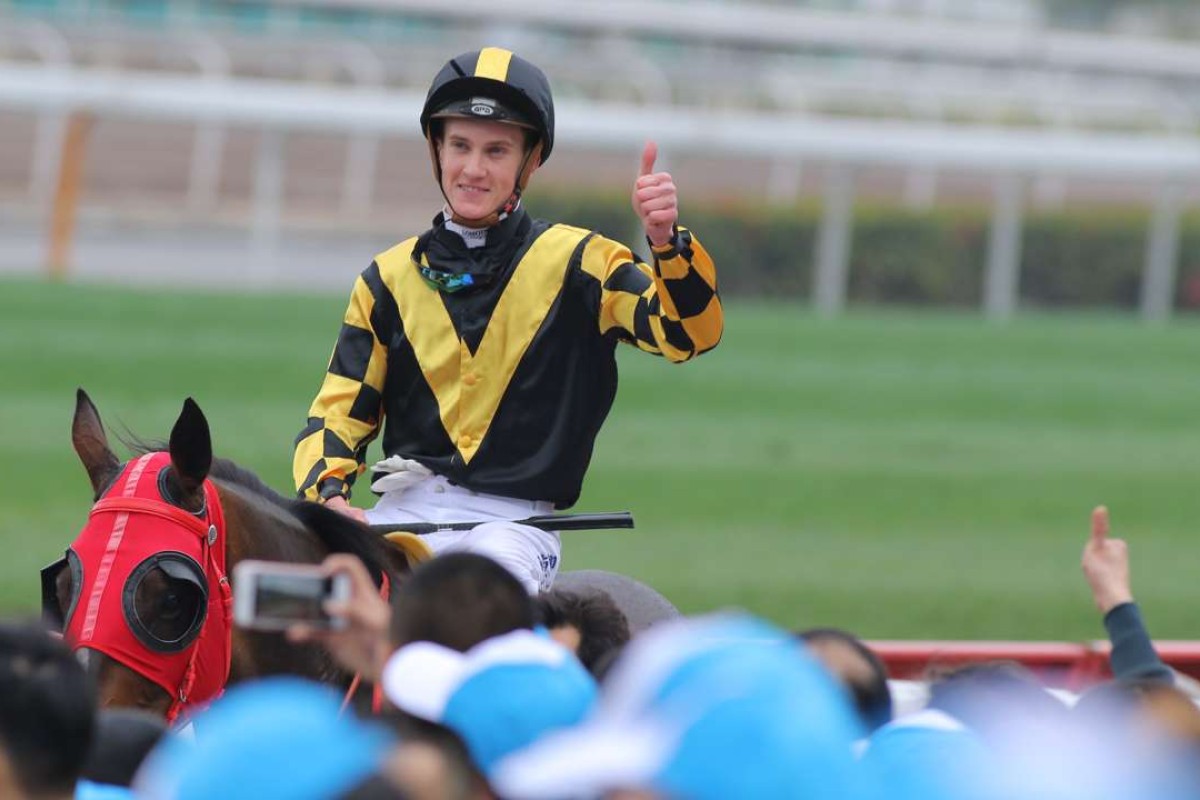 Young gun Chad Schofield reconnected with trainer Danny Shum Chap-shing as he gave the stable the first leg of a double with a picture-perfect ride on Rouge Et Blanc yesterday.
Schofield ended a frustrating run of outs for both himself and the horse when Rouge Et Blanc got the benefit of a clever ride from the 22-year-old in a 2,000m Class Four – but it was also his first win for Shum since Dancing Flames' first-up success in October.
Rouge Et Blanc has been in the betting at a number of his runs this season but had failed to break through and although he was drawn to get a lovely run from gate two, Schofield had plenty to think about.
"First, we had to work hard to make use of the gate – he is slow to get moving, but he is also a big-striding horse so I wanted to keep him one-off if I could," Schofield said after his first win since March 2, a run of four meetings without a winner.
Schofield executed the first part of his plan to perfection, making his rivals work around on his outside, before taking a hold and popping off the fence – a key moment that in turn kept race favourite and eventual runner-up Lotus Strikes Back on his inside.
"That allowed us to get going early – I really wanted to get moving at the 600m because he isn't the type of horse you can just ask to sprint quickly, he needs that time to gather himself. We probably wouldn't have won if we had ended up back where the runner-up settled in the run."
The move meant Schofield was in clear running and already set sail for home on turning and Lotus Strikes Back was left picking off inside runs.
Even though Rouge Et Blanc's rating has stalled this season, Shum still thinks the five-year-old can win again with more weight on his back in Class Four – especially if he can find another 2,000m race.
"That's his best trip for sure," Shum said. "He has now won two from four at the distance, was second once and last time he raced wide and was beaten less than a length."
Shum's second winner Lucky Ever gave the horse back-to-back successes and a third win in four starts against some handy types in a Class Two sprint, this time with Ryan Moore providing the brilliance in the saddle.
Shum deferred stable spokesperson duties to trackwork rider and former apprentice Silver Wong Lai-ngan, who rides the horse in work each day.
"He can be a very keen horse in the mornings and as he started getting fitter towards the middle of the season it got a little bit worse," she said.
That tendency to pull probably wasn't helped last start when apprentice Kei Chiong Ka-kei free-wheeled her way to victory last start but Moore was able to settle the horse into a lovely midfield spot before finding a key split late.
"Ryan rode him really well to get him to race like that and finish so strongly," Wong said.