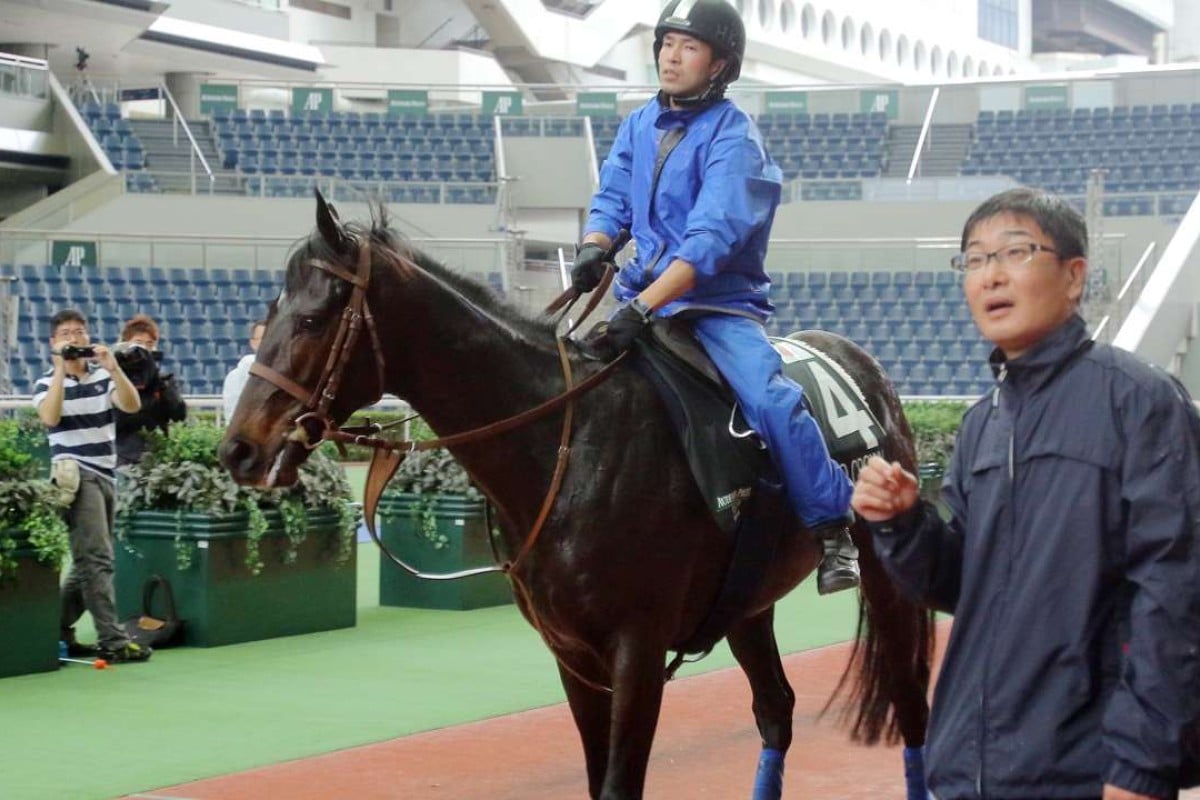 Wet and wild weather at Sha Tin failed to stop the strong Japanese contingent completing preparations yesterday for the Audemars Piguet QE II Cup, but news that even heavier rain is predicted for Sunday's race was met with mixed responses by the three sets of connections.
So will a wet track help or hinder the chances of Japan taking home a fourth QE II Cup?
Yes, no and maybe were the answers from the three camps as Satono Crown, Lovely Day and Nuovo Record pushed through the tail end of a windy squall that blew across Sha Tin just before their allotted trackwork time.
Given that he was able to handle it last time, I certainly don't see it as a problem. It enhances his chances
Yesterday's amber storm warning didn't really live up to expectations and despite looming ominously over the Sha Tin grandstand, it passed relatively quickly.
But the Hong Kong Observatory's Sunday forecast if for heavy rain and there is the real possibility of a rain-affected track.
Noriyuki Hori-trained Satono Crown is the only one of the Japanese raiders to have encountered a track rated anything other than good or good to firm.
Jockey Zac Purton said the fact the headstrong colt notched a dominant first-up win on a yielding track last start in the Group Two Kyoto Kinen was also a huge positive.
"Given that he was able to handle it last time, I certainly don't see it as a problem. It enhances his chances a little bit and gives me a bit more confidence," Purton said.
Lovely Day is thought of by most experts as Japan's leading chance of joining Eishin Preston (2002-03) and Rulership (2012) as winners of the spring feature, but trainer Yasutoshi Ikee indicated that any give in the track would put a dampener on his horse's hopes.
"He likes firm ground much more I think," Ikee said after his horse completed his work with a stalls test and walk through the parade ring, while Nuovo Record's handler Makoto Saito was hoping for one of two extremes – a torrential downpour or no rain at all.
"We would like it to be either soft or hard, not in between. She cannot handle a slippery track, but more wet and heavy, I think she can handle very well – as long as it isn't a sticky type of track," Saito said, adding that rain-affected ground would create a different type of race, tactically.
"On a track that is really soft, I can't see many horses coming off the pace – of course everyone will be looking to be closer, but we will have to too," he said.
Purton urged caution when assessing his Japanese rivals' suitability to wet ground, though, pointing out that even though the tracks they have raced on are notoriously fast, the horses there still encounter tricky conditions underfoot.
"It's great that my horse has at least run on a track that was rain-affected – and although you never know until they race on it, it doesn't mean that the other two won't handle it," Purton said.
"The big races in Japan are at the back end of a two-race programme, and by the time they get to them the tracks are chopped up."