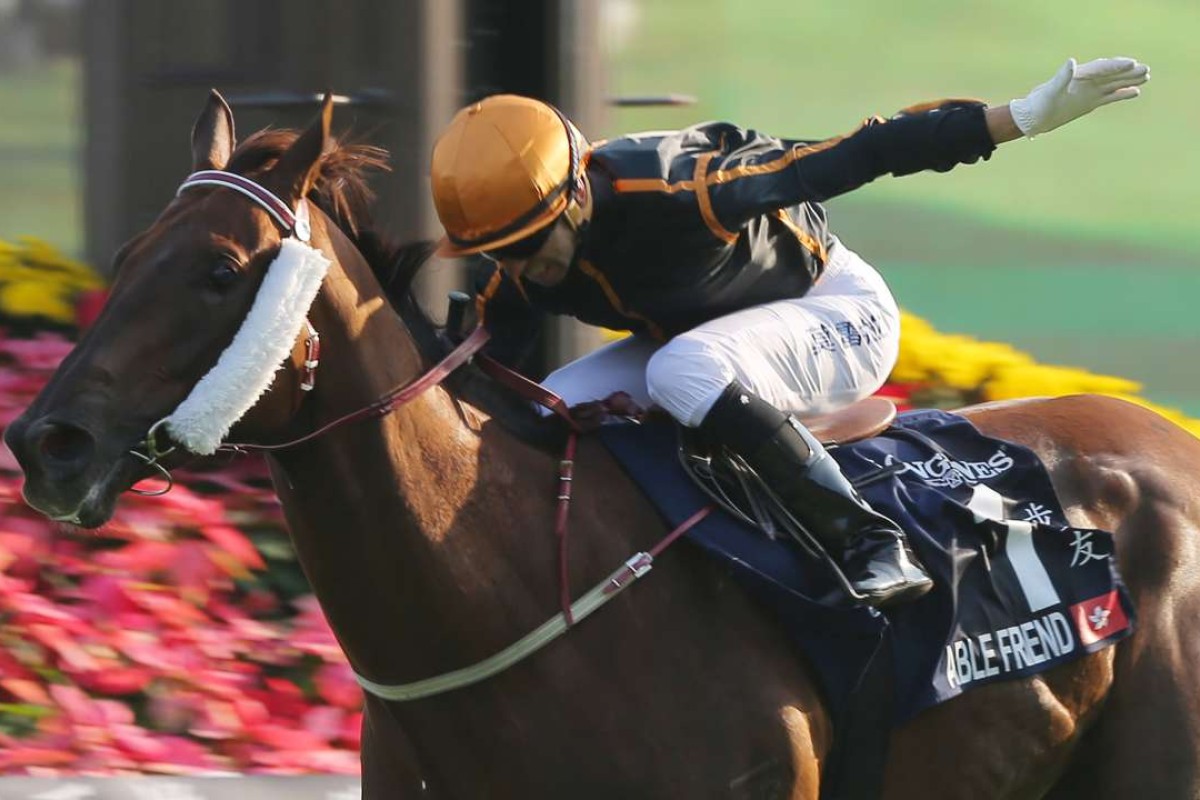 Champion miler Able Friend has turned up amongst the star-studded entries for the Longines Hong Kong Sprint in December but trainer John Moore has reiterated thathis intention is to run him in the Mile.
First entries for the HK$83 million Longines Hong Kong International Races have been released with Able Friend appearing in both the Mile and Sprint, but Moore said the latter was his "fall back position" if he runs out of time to have the 2014 Mile winner ready for the 1,600m.
"I really think he's a miler, but the Sprint is a fall back position," Moore said. "And I have to say we're happy with how Able Friend's preparation is going.
"Joao Moreira rode him this morning and gave me very positive feedback. We are managing his body weight so we don't have a horse that's too big and heavy when he runs on the 20th and I'm very happy with his condition. He looks great."
Able Friend fine, but new path might be needed as he heads to Hong Kong Mile
Able Friend is one of 69 Group One winners amongst the 184 entries across the four races, a total entry which has been dropping annually since a peak of 373 in 2012, but that appears to be due to fewer international "just in case" entries with no real intent to run.
As expected, after Japanese horses won the Mile and Cup last year, the Japanese entry is the largest ever, with 59 nominations – almost the equal of the 62 Hong Kong entries – and they are very deep in terms of talent and quite a number of connections have already indicated a keenness to turn those entries into runners on December 11.
Moore manure: horror day for leading trainer as Able Friend escapes major injury before string of favourites struggle
Mile winner Maurice has been entered this year for both the Mile and the Cup, with indications he will prefer the latter and A Shin Hikari, last year's Cup hero, has also been nominated again. Proven Group One performers Logotype and Lovely Day are also listed amongst Japan's entries, along with Dubai Turf winner Real Steel.
Australia has not been a major player at the HKIR for some time but perhaps Chautauqua's win at Sha Tin in May has proved an encouragement as there are 42 entries from Australia, including Group One winners The United States and Lucia Valentina, the latter fifth in last year's Cup, up-and-coming Miler He's Our Rokkii and shock Manikato Stakes winner last Friday, Rebel Dane.
Aidan O'Brien won his first HKIR event with Highland Reel last year in the Vase and the four-year-old is amongst the entries again, as is O'Brien's Prix de l'Arc de Triomphe winner, Found.
British entries look to be topped by Limato, the versatile sprinter-miler who is in both the 1,200m and 1,600m events.
"Two years ago the Jockey Club made a strategic decision to raise prize money to HK$83 million across the four Group One races and last year's HKIR was acclaimed as the best ever staged," said the Jockey Club's executive director of racing and business operations, Tony Kelly.
Why local sprinter-milers are set to shine again at Hong Kong International Races
"Since then, Hong Kong has been admitted into the elite Part I of the 'Blue Book' and the abundance of quality among this year's initial entries for the HKIR is testament to the international prestige of an event that is not only Hong Kong's premier sporting occasion, but unquestionably world horse racing's year-end showcase."
Supplementary entries for the four events close on Monday, November 21 and the invited runners will be announced on November 23.