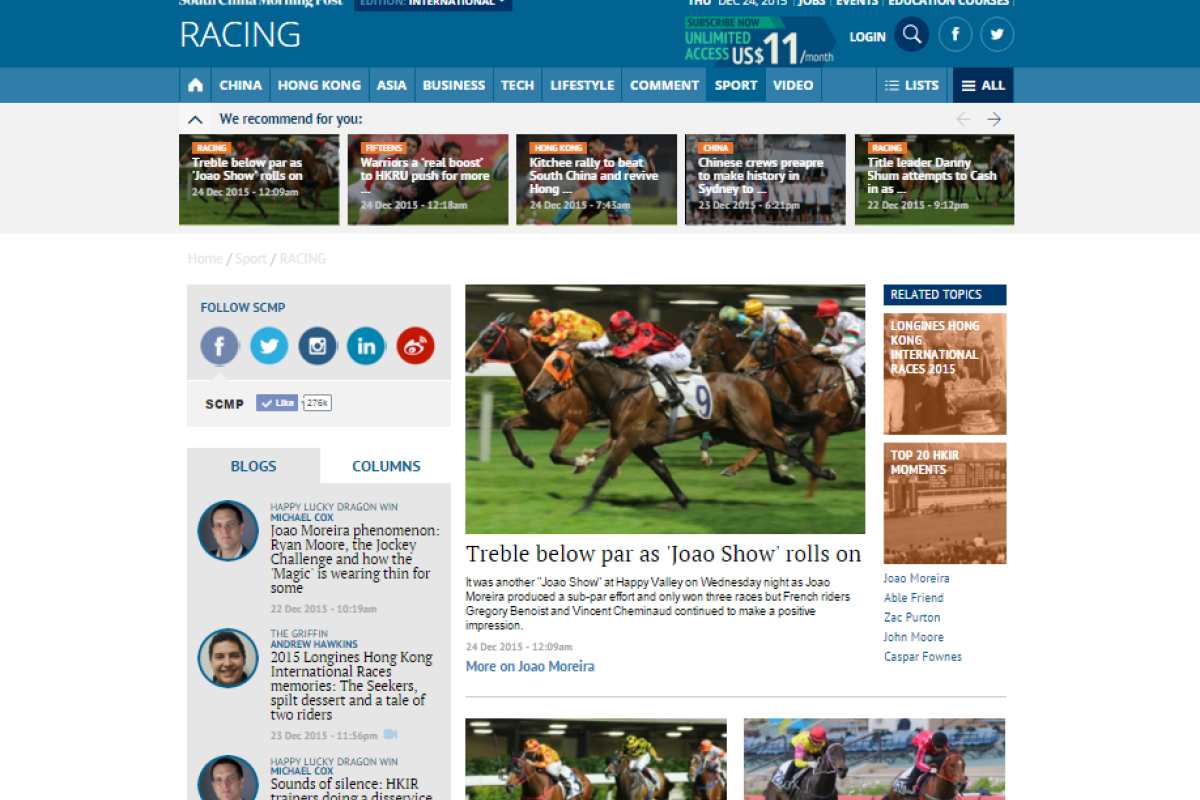 With the Longines Hong Kong International Races in the memory bank and 2016 on our doorstep, the festive season is a time for reflection after what has been an interesting calendar year for racing.
It is a fairly busy Christmas period in Hong Kong, with the calendar only slightly adjusted for the festive season and plenty of nice horses stepping out in the next couple of weeks. We will turn our attention to the four-year-old series, as well as the build-up to Dubai and our spring features, once the new year rolls around.
For the next two weeks, though, we will live in the past and look at what has made 2015 such a momentous year for racing, both in Hong Kong and abroad.
Next week, we will look at 10 of the biggest moments from racing worldwide in 2015.
For now, though, The Griffin looks at the 12 stories from the South China Morning Post racing team this season that received the most attention – at least in terms of page views.
12. Why American Pharoah's Triple Crown success will not be matched in the world of racing
Date: June 11
"It is impossible to imagine any racing story this year will top the wild scenes at Belmont Park last weekend as American Pharoah finally became America's 12th Triple Crown winner with his Belmont Stakes victory...it is a quintessentially American narrative, deserving of treatment from Springsteen or Mellencamp."
We all know how the story ended – American Pharoah went on to win the Haskell Invitational at Monmouth Park, suffered a shock loss to Keen Ice in the Travers Stakes at Saratoga before ending his racetrack career with his best performance yet in the Breeders' Cup Classic at Keeneland. But nothing will match the moments after he finally ended the 37-year Triple Crown hoodoo, winning the Belmont Stakes and therefore winning the coveted title. Jockey Victor Espinoza reflected on the journey when in Hong Kong recently for the Longines International Jockeys' Championship.
---
Date: March 14
"It is a long road from practising alone in abandoned commentary boxes and calling greyhounds at quirky courses like Moss Vale, in the New South Wales southern highlands, to the high-voltage atmosphere of a big Sha Tin race day."
For 16 years, Darren Flindell was a constant force on the English commentary team in Hong Kong. And for nearly a decade of that, he was the number one caller, his voice accompanying Hong Kong's biggest races all over the world. But in March, he signed off from the Sha Tin broadcast box for the last time on Hong Kong Derby day, headed back to his home town of Sydney to take up the number one position there. Less than a week later, he faced his biggest test, calling 16 two-year-olds in the world's richest juvenile race, the Golden Slipper, a 1,200m scamper around the hairpin Rosehill track. Flindell now seems to be thriving in the Sydney role, while the new English broadcast team in Hong Kong – after a few jitters – is improving every week.
---
Date: March 19
"Such is the life of a top jockey these days, traversing from town to town like a gypsy – albeit a gypsy up the pointy end of the plane. In this sense, the world's top races are becoming a circuit, with jockeys able to target the world's biggest (or richest) races and operate on a fly-in, fly-out basis. They are becoming horse racing's equivalent of Formula One drivers."
As much as Hong Kong Derby day was about the victory of John Size's Luger, it was also about the mad dash faced by Ryan Moore, who barely made it to the racecourse in time to ride runner-up Got Fly after a delayed flight from London. Hours later, he was on a plane again, this time to Sydney, highlighting the jetsetting life of the modern top jockey. This piece looked at how the world's top jockeys could one day be seen in the same light as Formula One drivers, travelling to all the world's biggest meetings.
---
Date: December 13
"It could easily have been mistaken for a prayer of thanks to the racing gods, an expression of gratitude to whatever heavenly forces that could have delivered the turn of events that brought Ganbat Enebish to Sha Tin as trainer of Longines Hong Kong Sprint entrant Mongolian Saturday."
In terms of human interest, the story behind Breeders' Cup Turf Sprint winner Mongolian Saturday definitely ranked highly this year. Trainer Ganbat Enebish and owner Ganbaatar Dagvadorj brought a little taste of Ulaanbaatar to Sha Tin when their quirky galloper made the trip from the United States to Hong Kong. And despite being unfancied, he still made connections proud with his fifth placing and there's no reason to think he won't be competitive in a race like Dubai's Al Quoz Sprint, back over a more suitable 1,000m, in March.
---
Date: March 10
"No rule is a magic wand to wave across the horses and make them all Able Friend (who would have just managed to get in as he was rated 71 when imported), and the new edict is regulation for regulation's sake."
There was uproar in March when it was revealed that Private Purchases – that is, horses who raced abroad before coming to Hong Kong – would now have to have a Hong Kong rating of 70 before they could be imported. As Alan Aitken explained, that would have meant a number of horses who became elite performers in Hong Kong may never have arrived – think Glorious Days, Time After Time, Rich Unicorn, Flying Blue, Endowing, Secret Sham and Flagship Shine. Nevertheless, the edict remains in place to this day.
---
Date: May 28
"Every sport has its eccentric characters. Where would basketball be without Dennis Rodman? Boxing without Mike Tyson? Tennis without John McEnroe? I mean, you cannot be serious. So it is with horse racing."
It seems the only thing more popular than a superstar horse is a crazy horse. People have a soft spot for rogues – and clearly, that extends to horses too. Take Sunday's Arima Kinen – most people will be tuning in just to see if everybody's favourite grey Gold Ship will have one final moment of madness before he heads to stud, rather than waiting to see if he ends his career with a victory. There's just something about a mad equine...
---
Date: September 7
"Even with the pressures inherent with riding here – the demands of owners and trainers and the demanding track work schedule – the bottom line is that he rides twice per week and dominates in a jurisdiction that has the best per-race prizemoney in the world."
This all went down in flames as soon as it became a story. When Moreira was booked for a number of rides for Godolphin over the Australian spring, the best result coming with a minor placing in the Craven Plate on Hauraki, there was talk a permanent switch to the boys in blue could be in the offing for the 'Magic Man'. Controversially, though, after being declared as the rider for Complacent in the Cox Plate, he was ingloriously shunted for James Doyle. Is that the end for Moreira and Godolphin? Only time will tell.
---
Date: May 12
"Able Friend is coming off an arrogant win in the Champions Mile at Sha Tin, his sixth success in a row, and the giant chestnut will be out to cement his place at the top of the world rankings with a similar performance down the tricky, undulating Ascot straight."
Oh, the days when we were so excited to see Able Friend travel. Rarely has there been such an anticipated race featuring a Hong Kong horse. It was going to be his chance to prove to the world just how good he really was. Of course, in the end he finished a disappointing sixth behind Solow, with a number of valid excuses. And while he returned better than ever, two subpar runs since - third in the Jockey Club Mile and Hong Kong Mile - have brought out the doubters in force.
---
Date: November 5
"If a picture paints a thousand words, then Mosse's emotional display has spoken volumes for the love and care for racing participants towards their horses. It's a powerful message, a poignant reminder that whatever the perception, racing is a game built on respect, admiration and affection for the thoroughbred."
This picture of Gerald Mosse continues to break the heart, even to this day. His reaction to Red Cadeaux's serious injury in the closing stages of the Melbourne Cup was one of the sporting pictures of the year, so simple, so raw. Yes, it was particularly haunting because it was Red Cadeaux, one of the most popular gallopers in the world, but it could have been any horse – the emotion and the compassion is something all people involved in racing have felt at some time. Tragically, this story had a tragic postscript when Red Cadeaux was put down on November 21.
---
Date: February 28
"Lawrence Fownes sat in a Causeway Bay hotel room and it felt like the walls were closing in. It was July 1981 and the then 43-year-old had left behind a relative life of luxury in India at the peak of his powers as a horse trainer, the winner of 650 races, including every major event on the racing calendar."
The story of Lawrence Fownes, an icon among Hong Kong horsemen and the father of three-time champion trainer Caspar, was a gripping tale. A champion trainer in India, he left it all behind and uprooted his family to Hong Kong in the hope of a better life, and despite a slow start, he quickly found his feet. Sadly, little more than a month after this article was published, Fownes died of cancer, aged 77. His death produced many emotional tributes from those who knew him, all affirming him to be one of Hong Kong's most respected men.
---
Date: December 13
"Welcome to Sha Tin and the biggest day on the Hong Kong racing calendar, the Longines Hong Kong International Races, where some of the best gallopers from all over the world head to the New Territories to take on Hong Kong's elite."
There were many highlights from international day – Highland Reel giving Aidan O'Brien his first Sha Tin success, Peniaphobia taking the mantle of Hong Kong's best sprinter, Maurice wresting the 'Beast From The East' crown from Able Friend, Yutaka Take producing the ride of the year on A Shin Hikari. Then there were the incidents and controversies – think Strathmore's scratching, Tommy Berry's illness, Kei Chiong's injury – as well as all the action and colour of Hong Kong's biggest day. All were captured in our live blog, which recorded incredible traffic throughout the day as the world turned its attention to the New Territories.
---
Date: July 19
"Joao Moreira's season was such a tour de force that the raw, mind-boggling numbers tell only part of the story."
There have been so many Joao Moreira stories that it could be possible to just have a section all on his own. Think about his whip antics on Sun Jewellery, his remarkable 2014-15 season, his incredible strike rate, his effect on turnover, and just his rise from poverty in Brazil to ruler of Hong Kong in general. But it was our infographic, showing his 145 wins last season in a collage, that was the most-clicked item from the SCMP racing desk this year. And what is even scarier is that he is well ahead of last year's strike rate and it looks extremely likely that the 145 record will be gone again in July.